MWC 2019 is one of the most exciting time for mobile tech as brands bring out their novelties out to the world. Its been just a few days since the Galaxy Fold Launch and here we have the Huawei Mate X. Straight off the bat, this one's folding mechanism and screen continuum is different. The support for the 5G network is simply icing on the cake. So, let's see what else this device has to offer.
Huawei Mate X: Folding Mechanism
Contrast to the Samsung Galaxy Fold's book like structure, this one has an OLED polymer display enveloping the phone shell. Fold or Unfold, either case, the display is on the surface. Unfold it and you have a flat somewhat squarish 8.0-inch tablet display without any gap in the middle. And fold it to have a front screen of 6.6-inches and the rear screen of 6.38-inches. So, in this state, you have a dual-display smartphone. The ON screen switches the side as you turn the phone.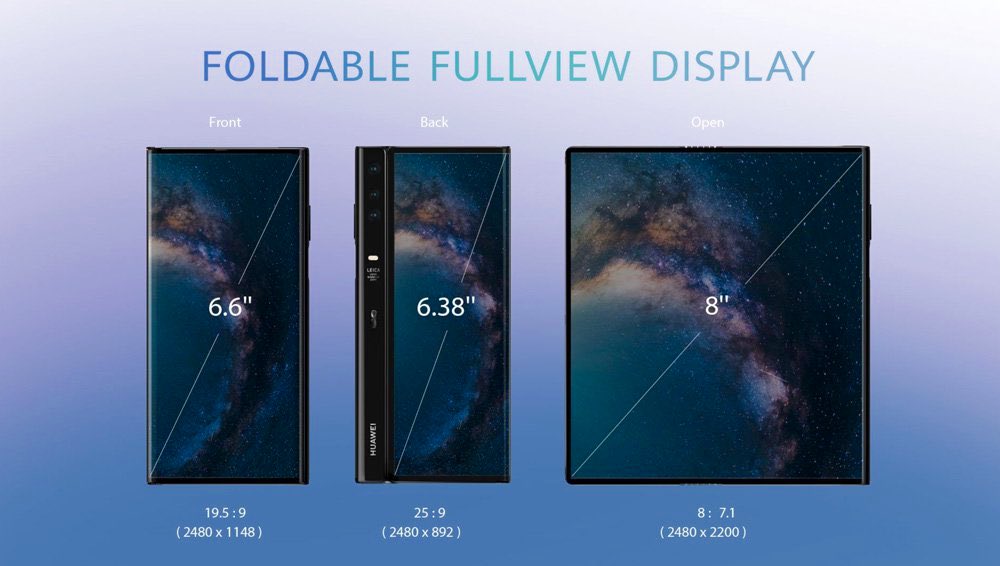 The device is very thin and when wrapped, it has a thickness of 11mm only and in the unfolded state, this slims down to 5.4mm. It has minimal bezels on the sides. Apart from these, a thicker curved right-side edge makes it a fairly handy device. Huawei calls the curved edge a "wing".
ALSO READ: Huawei Mate 20 Pro Tops DxOMark Ranking With a Score Of 109
At the right-hand rear side, you would find the triple camera setup. Huawei consumer CEO Richard Yu has confirmed that a fourth camera would be turned on in March alongside the debut of Huawei P30 series. The cameras powered by Leica optics act as front cum rear shooters. The trio setup has a primary 40MP sensor (wide-angle lens), 16MP (ultra-wide-angle lens), and an 8MP sensor (telephoto). Like the Vivo NEX Dual Display, this one also features a mirror-shooting mode that previews the scene to others, on the rear display panel.
Perfect your pose. Mirror shooting lets you see your picture as it's being taken. #HUAWEIMateX #ConnectingTheFuture #MWC2019 pic.twitter.com/FMt0vAZVtK

— Huawei Mobile (@HuaweiMobile) February 24, 2019
Though Huawei's patented Falcon Wing design looks impressive, especially since it unhinges flat. However, if the company had gone for a perfect square display, it would have been a thumbs-up for Instagram.
Unrivalled speed. The #HUAWEIMateX combines the world's first 7nm 5G multi-mode modem, the #Balong5000 with the #Kirin980 for unbeatable performance. #ConnectingTheFuture #MWC2019 pic.twitter.com/nWzZryI7RS

— Huawei Mobile (@HuaweiMobile) February 24, 2019
Under the hood, it runs on Kirin 980 SoC with Balong 5000 5G modem. Huawei bets on the fastest network speed which could be tested once 5G rolls out. It would be powered by a 4,500mAh battery coupled with a 55W SuperCharge technology, which could fuel the Mate X to 85 percent in 30 minutes. If you're wondering, the port would be USB-C.
ALSO READ: Unpacked 2019 Highlights – 6 Exciting Announcements From Samsung Event
On the memory department, we have 512GB internally and 8GB of RAM. The power button would act as the fingerprint reader. From the press event, the software seems fluid and responsive. However, we don't have an update on the Android version. It could be EMUI 9.1 based on Android 9 Pie. It would be a Dual-SIM device supposedly nano-ones.
Huawei Mate X: Pricing and Availability
The Chinese giant would be on sale in select markets (names To Be Announced) around June or July. It is priced at 2,300 euros, which is a bit steep. And yes, it most likely won't launch in the US.