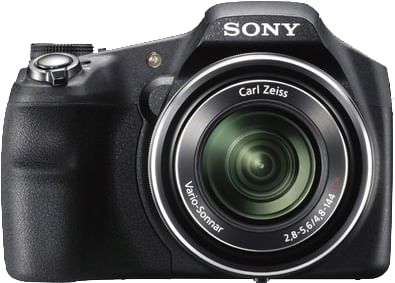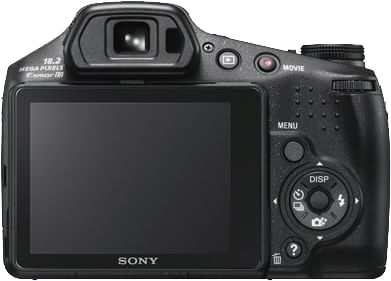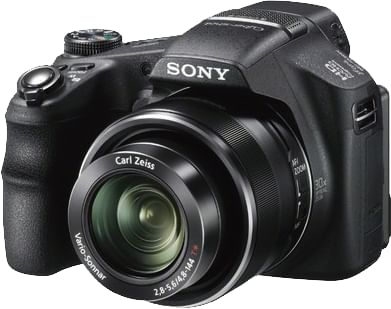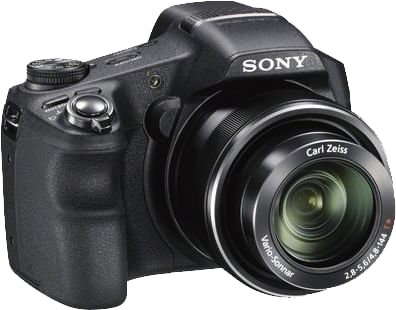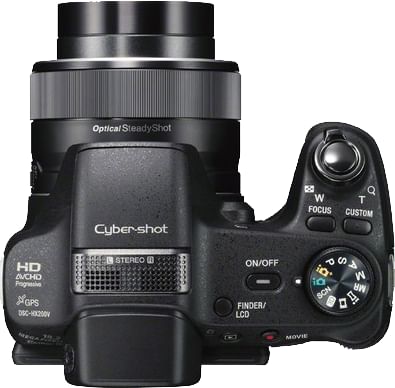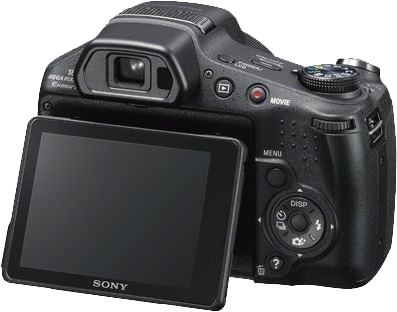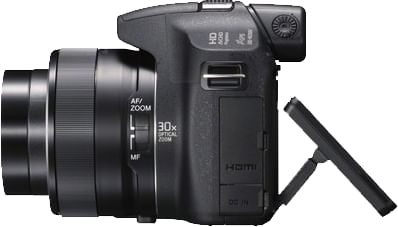 Sony DSC-HX200V Point & Shoot
₹3,793
 •  Out Of Stock
 •  By Sony
Sony DSC-HX200V Point & Shoot price in India starts from ₹3,793. It was available at lowest price on Amazon in India as on Dec 01, 2023. Take a look at Sony DSC-HX200V Point & Shoot detailed specifications and features.
Sony DSC-HX200V Point & Shoot Quick Specifications

| Specification | Value |
| --- | --- |
| Display | XtraFine TruBlack LCD |
| Sensor Type | Exmor R CMOS |
| Max Shutter Speed | 1/4000 sec |
| Lens Type | Carl Zeiss Vario Sonnar T |
| Aperture Range | F2.8 - F5.6 |
Read More
This Camera is
Out of Stock
.
Set an Alert
to know when it comes back in stock.
₹3,793
Search

Sony DSC-HX200V Point & Shoot price in India is ₹3,793. You can buy Sony DSC-HX200V Point & Shoot online on Amazon at lowest price. Sony DSC-HX200V Point & Shoot was last updated on November 30, 2023
Read More
Point & Shoot
18.2 MP Camera
1080p FHD Video Recording
1/2.3 inch Exmor R CMOS Sensor
3 in, 921.6k dots, LCD Display
1/4000 sec Max Shutter Speed
30x Zoom, F2.8 - F5.6 Lens
27 mm Wide-angle
OUT OF STOCK
Sony DSC-HX200V Point & Shoot Specs
Group: ₹3,500 to ₹4,500
General
Point & Shoot Camera

583 g

Heavy
Sensor
1/2.3 inch, Exmor R CMOS

Average

18.2 MP Resolution

High

1080p FHD

Average

Auto, ISO 100, 125, 160, 200, 250, 320, 400, 500, 640, 800, 1000, 1250, 1600, 2000, 2500, 3200, 4000, 5000, 6400, 8000, 10000, 12800
Lens
Carl Zeiss Vario Sonnar T

F2.8 - F5.6 Aperture

4.8 - 144 mm (35 mm Equivalent to 27 - 810 mm) Focal Length

30x Optical Zoom

Good
Display
LCD

3 in Display

Large

921.6k dots

High
Features
Inbuilt Flash

1/4000 sec Max Shutter Speed

Fast
Connectivity
Battery
Sony DSC-HX200V Point & Shoot Prices
Price has not changed significantly in 1 month.

₹3,793
FREE Delivery
4-6 Business Days
Search
OUT OF STOCK

₹24,990
FREE Delivery
2-5 Business Days
Search
OUT OF STOCK

Nudurumati (NVL Babu)
10 years ago
EXCELLENT PRODUCT FROM SONY
bought this product SONY DSC-HX200v from VG Chimalgi, Secunderabad in Feb.'13. I walked into the shop and enquired about sony webcams. The salesman patiently enquired about my requirement and usage after which he suggested to go for this which cost me 26000/- inclusive of add-on 16gb memory module and carry case. Of couse, it comes with 4gb std. I used this camera for my tirupati trip and almost full coverage of the marriage of my brother's daughter. Even before the marriage pictures were given by the studioman, I showed my relations the same day my shoot out of sony hx-200v on laptop and sony tv 40 inches. those who viewed did not bat their eyelids and everyone was enquiring what was the camera used and everybody thought it was an high-end SLR. Nothing great from my side. I should thank SONY and that salesman who advised me. A great buy, dears. Nothing less than studio quality.
Read More on Flipkart →

Arka De
10 years ago
MINDBLOWING
Just one comment, if You have money GO FOR IT................ if you want to know why then here is some information for you I have been using this camera for the past 3months so let me share my experience and i am starting with the cons 1)Firstly this camera is weighty so if You are an amateur in camera and if your hand shakes a lot this will feel heavy for you and it will become tough for you to focus but this camera is equipped with EXMOR CMOS sensor so focusing speed is ultrafast in daylight. Even in night if You use flash then focusing time will not be an issue. 2)The camera has an optical sensor beside the viewfinder and if you bring any object in front of it(like your face, your finger) it will be detected and the display gets instantly switched from LCD to viewfinder. Sometimes it sucks. 3)The manual provided is completely a waste. If you use camera for the first time You have to learn it all by yourself or take help of some advanced user. But there is an in camera guide which helps you with each and every function, How to use them and some FAQs. Still I would say a beginner will find it difficult. 4)The worst thing about the camera- It is not capable of taking RAW images. 5)It doesnot have any Horse shoe so Say goodbye to external flash. If you thing why I have given 5star to this product with so many drawbacks then here is your answer. 1)I have compared this product with NIKON P510 and CANON SX50IS Sorry to say The CANON lens is simply a waste in front of it. CANON is equipped with many software editing type feature but in terms of camera quality it lags a lot. NIKON lens is almost identical with this one but while shooting macro objects, NIKON gave me trouble. Moreover NIKON has 42X zoom and in that optical domain, photo gets very blurred and lacks in clarity. The Sony HX200V has an additional feature of manual focusing by touching the lens sidecover(I dont know its official name)[see the technobuffalo review]. LCD provided by sony is too much good[better than NIKON D90] plus the menu functionality of NIKON is not user friendly and it is slow in terms of focussing speed. The sony has zoom plus feature which allows us to zoom upto 60X before going into digital domain zoom. Finally Sony has 3years warranty whereas NIKON has 2years. 2)Battery takes only 100minutes to charge fully and lasts for above 200minutes while taking photos in the highest resolution.Even if you just charge it for 30 minutes, the battery will last for 100minutes. 3)You can add lenshood, UV filter, Adaptive filter, Macro Filter which gives you a SLR like feel. 4)In camera you can separately change Exposure, Aperture, ISO, Shutter speed or you can combine your changed settings and save it for future use. Moreover you have provision for Brightness, Contrast, Saturation, Vividness, White balancing with manual tinting control. You can also use partial black and white feature like keeping the red portion of your photo color only and making all other colours grayscale. 5) The lens clarity is simply mindblowing. Frankly the quality is better than basic kit lens provided by NIKON or CANON with their SLRs' under 35k. But it lacks in depth of field which I think NIKON P7700 overpowers it. But that NIKON model is equipped with 7X zoom only. 6)From Macro to infinite The focusing is ultraquick and every tiny things get noticed by it with utmost clarity. 7)If you take photos in night with Flash On and can correct red eye through software, this will give you the BEST RESULT among all Point and shoot camera(I have used Olympus SP560UZ, CANON POWERSHOT SX120IS,130IS,150IS,30IS,50IS, NIKON P510, NIKON L810 AND SOME FUJIFILM CAMERAS in some marriage ceremony (forgot the model number)) 8)The tilting LCD screen is simply awesome. In crowded place you go to a distance from your area of interest, raise your hand with the camera in it, tilt your screen downwards to you and use zoom. Bang, you can take marvelous photo. Finally I would like to say this camera lens is simply the best in this price range(excluding NIKON P7700 which has 7x zoom only). You may find bigger zoom, more features but What I would suggest all those things you can do it through PC so go for it. P.S. This website didnt allow me to share link otherwise I can show you sample photos
Read More on Flipkart →

Arushi Garg
11 years ago
Excellent Camera!
After reading all the reviews here and some other researching, I finally bought it and am very happy with my decision. I found Mr Premchand's suggestion of buying a 16GB memory card very helpful...if one is going to make frequent videos in AVC HD format. Thank you all for writing honest reviews :)
Read More on Flipkart →

Vishal Bhardwaj
@vishal_dulatibe
6 months ago
Hello

Karan Kewat
@karan_kenujoso
1 year ago
Mujhe chahiye camera ye
Sony DSC-HX200V Point & Shoot Full Specs
General
| | |
| --- | --- |
| Type | Point & Shoot |
| Model | DSC-HX200V |
| Weight | 583 g |
Sensor
| | |
| --- | --- |
| Type | Exmor R CMOS |
| Size | Diagonal: 717, 1/2.3 inch |
Lens
| | |
| --- | --- |
| Lens Type | Carl Zeiss Vario Sonnar T |
| Focal Length | 4.8 - 144 mm (35 mm Equivalent to 27 - 810 mm) |
| Aperture Range | F2.8 - F5.6 |
| Picture Angle | 27 mm Wide-angle |
| Auto Focus | TTL Contrast Detection |
| Manual Focus | Yes |
| Optical Zoom | 30x |
| Digital Zoom | 120x |
Display & ViewFinder
| | |
| --- | --- |
| Display | XtraFine TruBlack LCD |
| Touch | No |
| Display Size | 3 in |
| Display Resolution | 921.6k dots |
| Aspect Ratio | 4:3, 16:9 |
| View Finder | Yes, Optical Viewfinder |
Photography Features
| | |
| --- | --- |
| Color Filter | Primary (RGB) Color Filter |
| Face Detection | Yes |
| Metering | Multi Pattern, Center Weighted, Spot |
| Macro Mode | Yes, iAuto AF: 1 cm (W) - 200 cm (T), Program Auto AF: 1 cm (W) - 200 cm (T) |
| Continous Shots | Yes, 10 fps |
| Self Timer | Yes, 2 and 10 sec |
| Inbuilt Flash | Yes |
| Flash Range | 0.3 - 12.4 m (W), 2.0 - 5.9 m (T) (ISO 3200) |
| Red Eye | Yes |
| Max Shutter Speed | 1/4000 sec |
| Delete Function | Yes |
Image
| | |
| --- | --- |
| Camera Resolution | 18.2 MP |
| Video Recording | 1080p |
| ISO | Auto, ISO 100, 125, 160, 200, 250, 320, 400, 500, 640, 800, 1000, 1250, 1600, 2000, 2500, 3200, 4000, 5000, 6400, 8000, 10000, 12800 |
| White Balancing | Auto, Daylight, Cloudy, Fluorescent, Incandescent, Flash, One Push, One Push Set, White Balance Shift |
| Image Formats | JPEG, DCF, DPOF |
| Audio Formats | AC3 |
| Video Formats | AVCHD, AVC MP4 |
Connectivity
| | |
| --- | --- |
| USB Port | Hi-speed USB |
| HDMI | Micro HDMI |
| TV-Out | Video Output |
| Microphone | Stereo |
Battery & Power
| | |
| --- | --- |
| Battery Type | Li-ion Battery |
Warranty
| | |
| --- | --- |
| Warranty | 3 years, 3 year Sony India Warranty and Free Transit Insurance. |