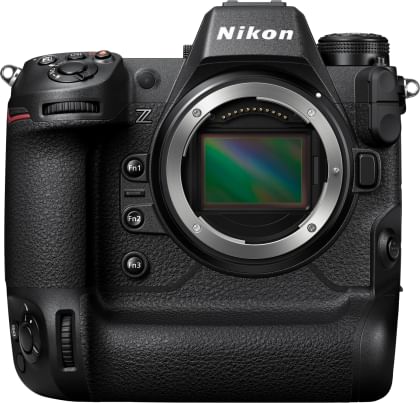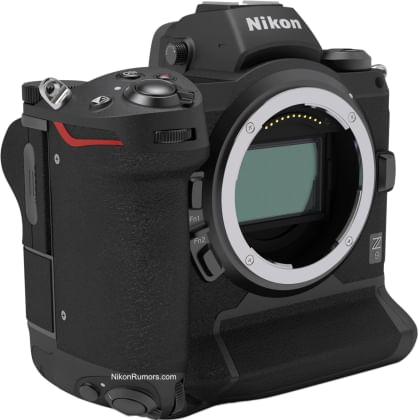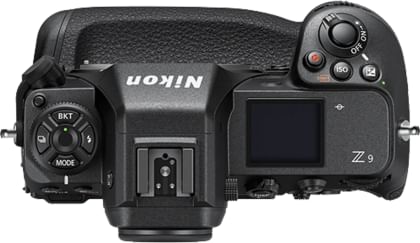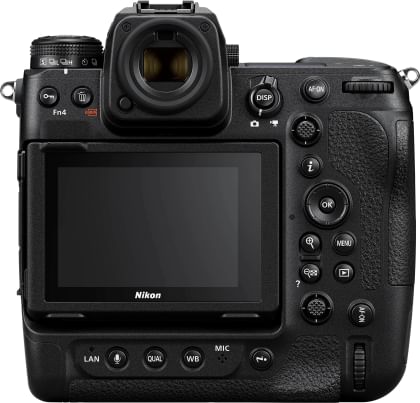 Nikon Z9 46MP Mirrorless Camera (Body Only)
Nikon Z9 46MP Mirrorless Camera (Body Only) price in India starts from ₹4,75,995. It is available at lowest price on Croma in India as on Jun 10, 2023. Take a look at Nikon Z9 46MP Mirrorless Camera (Body Only) detailed specifications and features.
Nikon Z9 46MP Mirrorless Camera (Body Only) Quick Specifications

| Specification | Value |
| --- | --- |
| Type | Mirrorless |
| Sensor Type | Stacked CMOS |
| Max Shutter Speed | 1/32000 sec |
| Camera Resolution | Effective pixels: 46 MP, Sensor Photo Detector: 52 MP |
Read More
Nikon Z9 46MP Mirrorless Camera (Body Only) price in India is ₹4,75,995. You can buy Nikon Z9 46MP Mirrorless Camera (Body Only) online on Croma at lowest price. Nikon Z9 46MP Mirrorless Camera (Body Only) was last updated on June 10, 2023
Read More
Mirrorless
Effective pixels: 46 MP, Sensor Photo Detector: 52 MP Camera
8K @ 30 fps UHD Video Recording
Full frame (35.9 x 23.9 mm) Stacked CMOS Sensor
3.2 in, 2.1M dots, Touch Screen Display
1/32000 sec Max Shutter Speed
Wifi, Hdmi
Microphone
Nikon Z9 46MP Mirrorless Camera (Body Only) Specs
Group: ₹4,37,500 to ₹5,12,500
General
Mirrorless Camera

1.34 kg

Heavy
Sensor
Full frame (35.9 x 23.9 mm), Stacked CMOS

Average

Effective pixels: 46 MP, Sensor Photo Detector: 52 MP Resolution

8K @ 30 fps UHD

Average
Display
Touch Screen

3.2 in Display

Large

2.1M dots

High
Features
External Flash

1/32000 sec Max Shutter Speed

Fast
Connectivity
Wifi, NFC, Bluetooth

Hdmi

Microphone
Battery
Battery Pack

EN-EL18d

740 mAh

Large
Nikon Z9 46MP Mirrorless Camera (Body Only) Prices

₹4,75,995
FREE Delivery
3-7 Business Days
Shop Now

₹4,75,995
FREE Delivery
4-6 Business Days
Shop Now

Ricardo Hooper Duarte
@ricardo_cobumilu
1 year ago
Don't buy this
A good photographer can use any kind of camera to do anything. If you have limited funds, spend it on lenses. Unlike cameras, a great lens will last you decades with whatever cameras you use in the future. If you need to pinch pennies, skimp on the camera and spend whatever you want on lenses. The best ever pictures were taken decades ago with film, not digital, cameras. Notwithstanding the galloping array of new features introduced by digital cameras manufacturers none yet has yielded the same color tonality, skin tones and other encompassing life-like texture of film. Almost two hundred years ago, 1826, people were mesmerized to see the first picture ever taken, simply titled "View from the Window at Le Gras," by Joseph Niépce. One hundred years later, 1925, people were excited by being able to take pictures of their kids in their home backyards with the world's 1st portable camera, introduced by Oscar Barnack, the creator of the Leica cameras. One hundred years later, 2025, has not arrived yet (we're so close to it) and, so far, people have not yet experienced the same excitement nor mesmerizing WOW reactions other than waisting their time comparing useless specs of new digital cameras that, as they "evolve" the more they become virtual solid bricks that, combined with lenses, weigh the vivinities of ridiculous two kilograms! C'mon, guys, let's try to restore our mental sanity and apply in our real life the common sense behind what photographing is all about. If you are making a living out of professional photographing, documenting fine arts, covering sports events or working for an architectural/real estate entrepreuner, OK, digital photography and its speedy ways to connect, display, share and broadcast lives over social media networks, fine, digital is definitely your best choice today. But this stream has a very high cost that 98% of us, average people, cannot or are not interested to afford. Why should I spend 7K+ dollars on a camera system that can spot Cristiano Ronaldo's tooth's cavity while scoring a goal or taking a hyper HDR picture of Everest's peak when all I want is to snap that Xmas moment of my family around the colorful socks hanging down our fireplace mantelpiece or, even, taking a stroll around my neighbourhood so to register candid pictures of our neighbors doing their day-to-day things? Do I need a 10 grand, 2Kg photo system for that? This upcoming Z9 from Nikon, OMG, I couldn't care less for its useless tech "advances" being explored by Youtubers and Vloggers who, without exception, miss always the solid points vis-a-vis the genuine spectra of common people's needs. What do common people really need/wish today? 1- A portable, light camera interchangeable lens system. 2- Hybrid, stills/video (no need of resolutions yet not at the reach of most TV sets owners) 3- The fastest possible autofocus 4- As many as possible phisical knobs , levers and buttons away from the need of long time unfriendly, confusing digital menus (Fujifilm is king here) 5- Bright viewfinders, touch screens and illuminated buttons at the back 6- Shake free and weather resistance bodies 7- low ISOs similar to film's 64 ASA. That's all. folks. Mirrorless technology, in digital ´hotographic science is really the next step up to reaching the dreammy quest to par with the magic of film photogtaph. Out of the major cameras manufacturers out there, who is getting near to this dream? I've shot Nikon for four decades, but today Canon is better for most things. Sadly Nikon hasn't done anything innovative with their cameras since 2007, while Canon has continued to advance the state-of-the-art research for the ultimate yielding of pairing digital to film photography. For the time being I rest confortable with my 3 cameras, waiting for the WOW magical event in 3 years for now: 1-My NIKON Nikkormat EL (Film) - 100 bucks at E-bay 2- My DSLR Nikon D850, Nikon's top technical performance camera of all time. It's the best Nikon ever for nature, landscapes and portraits with its extraordinary technical performance, and especially great for long exposures with its vibration-free shutter mode and native Time Exposure mode and for night shooting with its light-up buttons. 3- My expensive yet world's best digital camera, the Lumix GFX 100S. Just a final word, please and thank you for reading these comments so far, a very important scientific fact regarding the perception of what we see out there in the universe vis-a-vis photographic technology. The human eye is endowed to perceive all the nuances of light rays and their multiform spectra of colors up to what light scientific sensors measure at 400 mega pixels. Film sensors captured that. Digital sensors. not yet, except with Panasonic Lumix 100S enhanced HDR mode for stills (not straightfoward from a single shot from its sensor, though) See? We're still somewhat behind the scientific strata of photographic cameras developments till we reach the ideal situation where we can get hold of an affordable, portable digital camera so to go around all situations of life around us, shooting the moon's craters and Cristiano Ronaldo's cavities, inclusive, as easy as heating popcorns in a microwave oven. Please, for the sake of their understanding the power of our common decisions to buy or not to buy whatever products being brought to our attention with the sole intent to take our money without a seriours contempt to care about what we really need, do not buy this piece of nonsense, the Z9, nor the Canon''s R3, nor any other manufactures attempt to turn us in a mere pawn in their ratrace game for profiting millions. 2 years from now, the Z9, the R3 and all other cameras to be introduced within the next 6 months will be valued half as much. Better to invest in lenses instead. Investing in good lenses in kust like opening a savings account where your deposits will multiply year after year. That's exacltly what mother nature does to us all. It gives us a body that decay day after day and a pair of lenses that will perceive the world out there almost the same way, even when our bodies can hardly step up over a short ladder.
Be the first to leave a comment.
Nikon Z9 46MP Mirrorless Camera (Body Only) Full Specs
General
| | |
| --- | --- |
| Brand | Nikon |
| Model | Z9 |
| Type | Mirrorless |
| Weight | 1.34 kg |
Sensor
| | |
| --- | --- |
| Type | Stacked CMOS |
| Size | Diagonal: 4313, Full frame (35.9 x 23.9 mm) |
Lens
| | |
| --- | --- |
| Lens Mount | Nikon Z |
| Auto Focus | Yes |
| Manual Focus | Yes |
| Digital Zoom | Yes |
Display & ViewFinder
| | |
| --- | --- |
| Touch | Yes |
| Display Size | 3.2 in |
| Display Resolution | 2.1M dots |
| View Finder | 100%, Electronic |
Photography Features
| | |
| --- | --- |
| Face Detection | Yes |
| Metering | Multi, Center-weighted, Highlight-weighted, Spot, Spot AF-area |
| Continous Shots | 30.0 fps |
| Self Timer | Yes |
| Inbuilt Flash | No |
| External Flash | Yes |
| Max Shutter Speed | 1/32000 sec |
Image
| | |
| --- | --- |
| Camera Resolution | Effective pixels: 46 MP, Sensor Photo Detector: 52 MP |
| Video Recording | 8K @ 23/25/30 fps UHD, 4K @ 100/120/23/25/30/50/60 fps UHD, 1080p @ 100/120/23/25/30/50/60 fps FHD |
| White Balancing | 9 presets |
| Image Stabilizer | Yes |
| Video Formats | H.264, H.265 |
Connectivity
| | |
| --- | --- |
| Wi-Fi | Built-In, 2.4, 5Ghz |
| USB Port | USB 3.2 Gen 1 (5 GBit/sec) |
| HDMI | Yes |
| Microphone | Stereo |
| Remote Control | Yes (Via app) |
Battery & Power
| | |
| --- | --- |
| Battery Type | Battery Pack |
| Battery Capacity | 740 mAh |
| Battery Model | EN-EL18d |