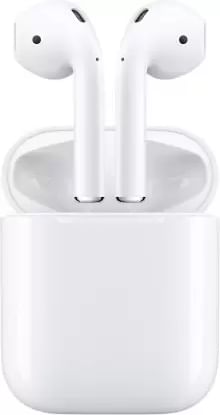 Apple MMEF2HN/A Headphone with Mic
₹12,900
 •  Out Of Stock
 •  By Apple
Apple MMEF2HN/A Headphone with Mic price in India starts from ₹12,900.
This Headphone And Earphone is
Out of Stock
.
Set an Alert
to know when it comes back in stock.
₹12,900
Search

Apple MMEF2HN/A Headphone with Mic price in India is ₹12,900. You can buy Apple MMEF2HN/A Headphone with Mic online on Flipkart at lowest price. Apple MMEF2HN/A Headphone with Mic was last updated on October 3, 2023
Read More
OUT OF STOCK

Flipkart Customer
4 years ago
Just wow!
i love this product .. you must try this product love itt 😍😍😍😍😍
Read More on Flipkart →

Orin Datta
4 years ago
Classy product
Super Awesome product from Apple yet again. Coupled with the Big Billion Day Sale Prices, I got this Airpods effectively @ Rs.6000 I will not go into much details of Design, Sound Quality, Noise Isolation, Battery Backup of this product since i mostly agree most of the comments as below Design : Sleek, Super Portable and Sexy Sound Quality : Better than wired Apple earpods, not so great for people looking for the clarity and effectiveness of Bose QC headphones Noise Isolation : Minimum. I am able to take my office calls without disturbance in a fairly noisy place Battery Backup : Terrific and best in the lot Before further discussion, I would gratefully like to thank Flipkart and HDFC diners for their amazing partnership offers during the sale, else I would have never bought these costly airpods. What i will focus more is 1) Who should buy this with respect to customers looking for value for money quotient ? 2) How did I get that 12.9k Airpods @ 6k effectively ? Value for Money This is the best product if you are already part of the Apple Ecosystem i.e., if you have MacBook, iPhone, iPad or any of the products beforehand or plan to buy in near future. The convenience of connectivity and the sound clarity is completely different in Apple devices. Trust me I have paired with One Plus and Pixel devices, the clarity and volume is bit less. I often take Skype Calls for Office in my Mac and switch between songs in my iPhone or Netflix in iPad, and it works like a charm without hassles. The Discount Game Well, generally they put it up around 12 - 12999 all the year round. But during the big billion day sale they put it up for 9.9k and on top of that there was HDFC discount plus additional extra 2K discount. After choosing to pay with my HDFC diners card the net amount I needed to pay was around 6900. Since I have a 13% reward rate for HDFC diners on Flipkart, I got around 900 rupees back in the form of reward points. I wish I had diners black, then the same would have costed me only 4500, since the reward rate for diners black is 33%. Note : Amazon too was listing this for 9.9k, but they did not have the additional 2K discount as Flipkart and the minimum at which I was getting from Amazon after applying bank discount was coming out to around 8.7 k. Please like this review if it helped you.
Read More on Flipkart →

Gaurav Vashisth
4 years ago
Genuine Product with a decent price on Flipkart
Here is what I observed with a prolonged use; 1) The charging case takes a while to charge. Not less than 1.5 hrs. The product being sweat resistant is nice for workout. The sound quality is better than the normal earphones received with Apple devices. 2) Apple is way above other brands in (I dont have a jargon to use here) its technology. The AirPods are pretty smart in themselves. 3) Apple has its name in the market and that is one important reason why many people go for their products. 4) Lastly, weve to be a little cautious in handling them. They dont fall so one need not worry about it in any case, or most of the cases I would say. Exceptions are always there. P.S. - There is a data cable too in the box which I found after a week! :D
Read More on Flipkart →
Be the first to leave a comment.
Related Headphones And Earphones