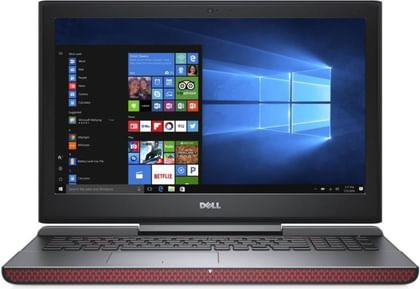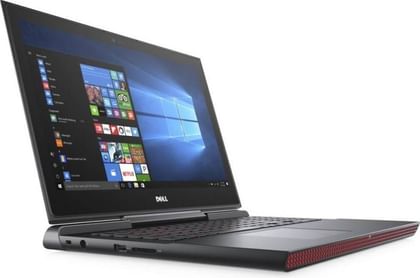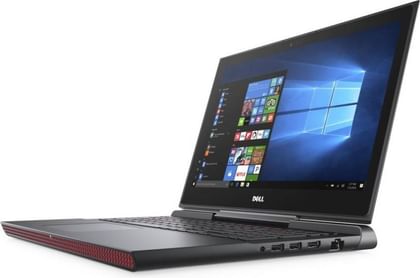 Dell Inspiron 7567 Notebook (7th Gen Ci7/ 8GB/ 1TB/ Win10/ 4GB Graph)
₹65,000
 •  Out Of Stock
 •  By Dell
Dell Inspiron 7567 Notebook (7th Gen Ci7/ 8GB/ 1TB/ Win10/ 4GB Graph) price in India starts from ₹65,000. It was available at lowest price on Amazon in India as on Jul 02, 2022. Take a look at Dell Inspiron 7567 Notebook (7th Gen Ci7/ 8GB/ 1TB/ Win10/ 4GB Graph) detailed specifications and features.
Dell Inspiron 7567 Notebook (7th Gen Ci7/ 8GB/ 1TB/ Win10/ 4GB Graph) Quick Specifications

| Specification | Value |
| --- | --- |
| Display | 15.6 inches |
| CPU | Intel Core i7 7th Gen 7700HQ |
| GPU | NVIDIA GeForce GTX 1050Ti |
| RAM | 8 GB DDR4 |
| HDD | 1 TB |
Read More
This Laptop is
Out of Stock
.
Set an Alert
to know when it comes back in stock.
₹65,000
Search

Dell Inspiron 7567 Notebook (7th Gen Ci7/ 8GB/ 1TB/ Win10/ 4GB Graph) price in India is ₹65,000. You can buy Dell Inspiron 7567 Notebook (7th Gen Ci7/ 8GB/ 1TB/ Win10/ 4GB Graph) online on Amazon at lowest price. Dell Inspiron 7567 Notebook (7th Gen Ci7/ 8GB/ 1TB/ Win10/ 4GB Graph) was last updated on July 2, 2022
Read More
Intel Core i7 7th Gen
2.8 GHz Clock Speed
8 GB DDR4 RAM
1 TB Hard Disk
4 GB NVIDIA Graphics Card
15.6 inches, 1920 x 1080 pixels
Windows 10 OS
1 Year Warranty
OUT OF STOCK
Dell Inspiron 7567 Notebook (7th Gen Ci7/ 8GB/ 1TB/ Win10/ 4GB Gra… Specs
66
SPECS SCORE
Group Rank: #152 / 454
Overall Rank: #711 / 2328
Group: ₹57,500 to ₹72,500
General
OS: Windows 10

Utility: Gaming

Thickness: 25.44 mm

Thick

2.62 kg

Heavy

1 Year Warranty
Display
15.6 inches

Large

1920 x 1080 pixels

Average

141 PPI

Average

16:9 Aspect Ratio
Performance
Intel Core i7, 7th Gen

2.8 GHz

6 MB Cache

4 GB, NVIDIA GeForce GTX 1050Ti

Average

8 GB DDR4 RAM

Average

1 TB HARD Disk

Average
Connectivity
Ethernet (LAN), HDMI, Multi Card Reader

WiFi, Bluetooth v4.2

0.92 MP Camera

Inbuilt Microphone
Battery

Pranav Mishra
@pranav_wasicoze
3 years ago
It's an awesome product!
By so and far I searched forany laptops online in India but this is the only one which I was able to bag for 70k with such great spec from the giant company DELL on this price point there are some other laptops with some edge from other manufacturers but they all lack in some basics which this model fullfills quite well the only disadvantages of this is it's weight which is due to its great advantage LONGEST BATTERY IN THIS SEGMENT It has a massive 6 cell battery packed with i7 and. 1050 TI and it makes it perfect for a heavy user like us ...

Anonymous
@anonymous
3 years ago
Excellent
So, first of all this is a last year model and it doesn't mean anything worth arguing because it still is the best buy. So let me break it down. let me say this first: NUMBERS DON'T MEAN THAT MUCH! Before buying my top picks were 1. Acer predator helios 300 i5 8th gen 2. Dell 7567 i7 7th gen 3. Asus tuf i5 8th gen DESIGN: It is built like a tank though it is a plastic built. i would prefer a well engineered plastic built rather than a cheaply made aluminium chassis anytime which not any of the alternatives deliver. Acer predator looks ugly af. Dell 7567 has no keyboard flex, it has a soft touch coating which is ofcourse a Fingerprint magnet but feels premium. Exhausts are Dope. PERFORMANCE: So this is where things get interesing. All of them has a GTX 1050Ti so this leaves to the CPU decision. i5 8th gen and i7 7th gen has same cores, same threads almost same clock speed. The numbers clearly states that i5 8th gen is around 5-10% faster. but does that really makes a difference in real life? To test that i went to a friend's house who has a Acer predator helios 300 with i5 8th gen cpu. I rendered the same project on both the devices in Adobe Premiere pro and as per my observations i7 7th gen beated i5 8th gen by 1:30 mins. I was surprised and by reserching on the web i found that acer predator helios 300 doesn't have as good thermal solution as dell 7567. So after using it for a long time acer wasn't able to utilise the cpu's full potential and this will also affect overclocking. Asus tuf's thermals is worst of the bunch. Saying it again, Numbers doesn't matter that much. BATTERY: This laptop delivers a solid battery life and this is one of the reasons that i chose this laptop over Acer. Predator has a 48Whr battery which is very small relative to a 74Whr battery in Dell 7567 and it does make a difference. Gaming - 2 hrs 20 min(played Call of duty black ops 2) intensive AAA titles will give around 2hrs or maybe less. I guess Normal use will about 5-6.5 hrs per full charge. Got McAfee 15 month subscription. uninstalled it after the first boot.

Anonymous
@anonymous
4 years ago
Worth every penny
It's last year's model... still a best option to go for... Complete Review: With the tag of the affordable, yet considerably powerful with 1050Ti all brands released their versions of entry level gaming laptops. Dell jump on that train with its Inspiron 7567 – a good-looking laptop with plenty of horsepower under the hood, stable cooling design and easy to maintain. What lacks, however, is an important feature what you find in most review everywhere about this laptop "an IPS panel". But is it still true?!! Answer to this can't be found anywhere. Read on for the answer. Why to consider this laptop now as it is last year's model. 1. Laptop means compactness and mobility. So, it should help you on long run without cord when required. The battery and standby time is what I am talking about. 7567 has a nice 74wh battery which is much bigger then what competitor offers (41wh or 54wh mostly). This battery compliments in a right way to the config it has. With Dell Power management software on top this laptop can give about 10hrs of working time. (Working not gaming) 2. When gaming 7700HQ+1050ti is a nice combo. If you mostly play on Full HD resolution (laptop screen or external monitor) this combo will easily give average 40-50 FPS on highest setting. 1050ti is not that recommended for 4k gaming. One more good thing about 1050ti is its relative lower power requirement as compared to higher cards with significant more output as compare to 1050. 3. Video/photo editing is also a breeze with 7700HQ+1050ti combo. This combo can handle designing software and analysis software easily too. With large battery you can use this for work for a prolonged period on the go as compared to competitor. When software is considered it is well to mention this laptop comes with MS office 2016 student lifetime license. In addition, McAfee antivirus for 18 months subscription is also included. Dropbox of 20GB for one year is also included. (This offers are generally from OEM brands and very specific to device model. I strongly believe e-commerce website should mention those, I might be missing something.) 4. There are absolutely no issue when entertainment is considered on this laptop. All works well and the screen is breeze to watch. This screen for newer models are IPS panel. Viewing angles are high. No color or contrast loss at high angle in any direction top, bottom, right or left. The speakers with a woofer is wonderful in this laptop. Combined output on laptop speaker is nice to listen. 5. The body is sturdy enough. There is no flex in keyboard area. The overall design is simple and elegant. It does not scream gaming with all those red plastic inserts. At this price segment most laptops come with red led backlit keyboard. The backlight is bright exactly how much needed and don't throw too much red on your face. The laptop is perfect to take it to collage presentations or work place. What lacks: 1. Definitely missing Type C port will hurt when searching for accessories for this laptop. 2. This laptop has only one HDMI port. No extra display ports. So no to multiple external monitors. As there is no c type port there is no possibility of connecting two monitors. The only way is to use a laptop docking station with two external display outputs. Docks are not that recommended for gaming setups. 3. This laptop is not a simple fingerprint magnet but a fingerprint super magnet. I am not talking about lid or body. It's true everywhere on this laptop. Verdict: The 8th gen 8750H is definitely better with more cores but the price it claims is too high. A laptop with similar specs with 8th gen processor will easily cost 20k more roughly. This laptop (this specific model)is an all-round performer and not targeted for only gaming. The other benefit is its price. With a 70k price tag (including flipkart offers) you pay what it is worth of. Unlike other gaming laptop which cost 40k-50k more just because sold in India compared to its foreign sibling whatever the reason behind. The 70k price is at least near to its $1000 counterpart. This laptop in overall is very suitable for college students and working professionals. It greatly helps in maintaining a balance between work, entertainment and of course gaming. This is a nice piece of device I would recommend and will be helpful for most of us. Hope you like the review. Anything missed is not intentional. :) ... Chao.
Be the first to leave a comment.
Dell Inspiron 7567 Notebook (7th Gen Ci7/ 8GB/ 1TB/ Win10/ 4GB Gra… Full Specs
General
| | |
| --- | --- |
| Series | Inspiron |
| Model | A562102SIN9 |
| Utility | Gaming |
| OS | Windows 10 Home (64-bit) |
| Dimensions | 274.73 x 384.9 x 25.44 mm |
| Weight | 2.62 kg |
| Warranty | 1 Year Onsite Warranty |
Display
| | |
| --- | --- |
| Type | Full HD LED Backlit Display |
| Touch | No |
| Size | 15.6 inches |
| Resolution | 1920 x 1080 pixels |
| PPI | ~ 141 |
| Aspect Ratio | 16:9 |
| Anti Glare Screen | No |
Connectivity
| | |
| --- | --- |
| Ethernet | Gigabit Ethernet |
| WiFi | IEEE 802.11ac |
| Bluetooth | v4.2 |
| USB Ports | No USB Port |
| HDMI | 1 x HDMI Port |
| Card Reader | Yes |
| Security Lock Port | Yes |
Input
| | |
| --- | --- |
| Camera | HD Webcam, 0.92 MP |
| Keyboard | Full-sized Spill-resistant Keyboard with Numeric Keypad |
| Touchpad | Touchpad |
| Inbuilt Microphone | Built-in Microphone |
| Speakers | , Stereo Speakers |
| Sound | 2 Tuned Speakers, 1 Subwoofer, Audio Processing by Waves MaxxAudio Pro |
| Optical Drive | No |
Processor
| | |
| --- | --- |
| Processor | Intel Core i7 7th Gen 7700HQ |
| Speed | 2.8 GHz Turbo Boost Upto 3.8 GHz |
| Cache | 6 MB |
| Brand | Intel |
| Series | Core i7 |
| Model | 7700HQ |
| Generation | 7th Gen |
Graphics
| | |
| --- | --- |
| GPU | NVIDIA GeForce GTX 1050Ti |
| Dedicated Memory | DDR5 4 GB |
| Brand | NVIDIA |
Memory
| | |
| --- | --- |
| RAM | 8 GB DDR4 |
| Hard Disk Capacity | 1 TB |
| Hard Disk Speed | 7200 RPM |
Extra
| | |
| --- | --- |
| Included Software | Microsoft Office Home and Student |
| Sales Package | Laptop, Battery, Power Adaptor, User Guide, Warranty Documents |