Smartprix Mega Giveaway – Win OPPO F17 Pro Smartphone
#OPPOColorOS11

The WAIT is finally over now and we have a lucky winner. Many Congratulations to Devyani Walecha and Thank you all who participated in this giveaway.


Apart from the Mega giveaway winner, there will be 10 lucky winners who will get Amazon Gift Voucher worth Rs. 250 Each. Please check your mail/spam folder for more details.
Results Declared
26560
PEOPLE HAVE PARTICIPATED
Congratulations to the Winner
Please check your registered e-mail id to claim your prize.
In case of any query, please contact at
feedback@smartprix.com
Details

List of Voucher Winners: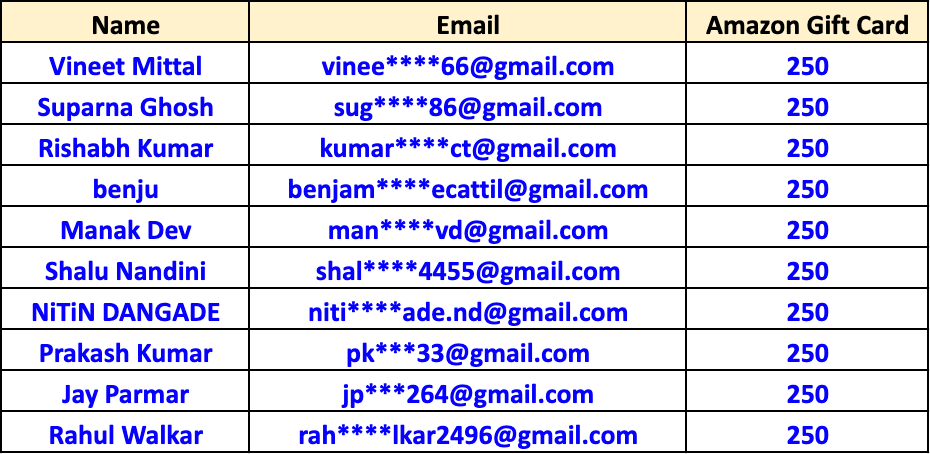 FAQs:
Q. How to Participate & Win?
Ans. Participating in this contest is as easy as it seems. You will have to complete all the given tasks & then Click on "Enter Giveaway" button.


Q. What is the duration to enter in this Giveaway?
Ans. This giveaway will commence from 21st October 2020 (Wednesday) at and ends on 25th October 2020 (Sunday)


Q. When the winner will be announced?
Ans. The winner will be announced on 26th October 2020


Q. How the winners will be notified?
Ans. Smartprix will send a notification to the winner via registered e-mail and it will also be declared on all of our social media handles. (Don't forget to follow us on every social media platform)


Q. When the winner will get the OPPO F17 Pro Smartphone?
Ans. The brand new OPPO F17 Pro Smartphone will be delivered within 10-15 days depending upon the shipping location.



Terms & Conditions
Discussions
I'll love to capture some amazing shots with that device as it has some amazing cameras. I also love the charm and premium design of it,which gives the device a unique look. I'll flaunt my new phone in social media 😉 Love the phone #smiles @happy times.

As i said before Smartprix is fabulous website And i love smartprix Oppo is the beautiful smartphone Best feature phone Ok and thanks for giveaway I very need this smartphone There are two reasons for this 1 - The first reason is that this phone is being giveaway by SmartPrix 2 - I want this smartphone to complete my online studies Thankyou smartprix

At this festival of light (Diwali) if I will win this amazing product first I will do cheers with my father and sister because they also have oppo smart phones, then I'll tell my friends and family about this phone and the cool and awesome features it has! "Finally I will flaunt it in my own way😁"

First of all, thank you Smartprix & OPPO for hosting this giveaway during this festive season. This is an amazing phone and #OPPOColorOS11 makes it even better. At this Diwali festival if I win this amazing phone then I will celebrate by clicking a selfie with my husband. It will be the best Diwali Gift ever. Completed all the tasks and hoping to win. Fingers crossed!

If I will win OppoF17, I am so excited to see my dream own OppoF17.... Oppo any series... awesome brand ...how to explain my excitement..love to see my hand my own OppoF17 mobile..❤️❤️❤️❤️😍

Awesome and Exciting 😍🔥🔥🔥. Thank you for arranging this amazing Oppo F17 Pro giveaway Smartprix. Thanks a lot for bringing much joy and excitement to our lives by bringing such amazing surprises. Ready to participate and wish to win 🥰❤️.

"The First Thing I'll Do Is" If i won this amazing Oppo Smartphone i will Scream hard as much i can 😍😍 "Second Step I Will Do" I will surprise my mom when i got the phone in my hand and make her reaction video😍🤗😁😁 "Third Step I Will Do Is" I cut a Cake with my new Oppo Smartphone but the name i will mention on the cake is Smartprix 🎂😍 "Fourth Step I Will Do Is" I will take photos and will make videos with Oppo Phone and upload it on social media🔥🔥 "Fifth Step I Will Do" Gratitude to the Smartprix because i will get this amazing Smartphone only because of Smartprix♥️😍😍 . . . If i win this smartphone this is the best ever Diwali Gift for me because my favourite brand it is. & My birthday is on 5th November wish i will win this Smartphone 😍😍♥️♥️🎁 With this smartphone my Birthday and Diwali vibes gonna be very lit. This is gonna be the best birthday gift for me 😍 . . Hope to win this contest 🤗 Fingers Crossed 🤞🏻🤞🏻

Click lots of pictures with my family and friends with this OPPO F17 Pro, the best Diwali gift everyone who have this phone.

I feel very happy because my girl friend doesn't have a good moblie phone amd she also a android app developer. I try to give a phone on her birthday and celebrate birthday with oppo f 17 pro

I'll be able to show it to my father who works very hard for me to get me a new phone but his business is not going nice amid corona pandemic. And I don't want him or my mother to spend any more money on my needs. My only celebration is showing this to my parents cuz they are happy when I am.