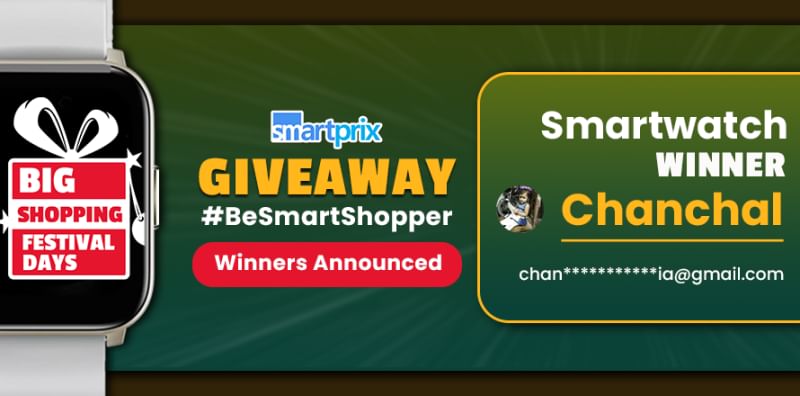 Smartprix Big Shopping Festival Days Giveaway Winners
#BeSmartShopper
Hello Smart Shopper! The wait is over. Thank You all for the great response and for making the #BeSmartShopper Giveaway a huge success.
We have sent an email to all the winners. Please check your registered e-mail id/Spam folder to claim your prize. Our mega contest winner will get a Smartwatch and all other winners will get exciting vouchers.
Stay tuned with Smartprix for more contest and Giveaways.
Results Declared
3861 PEOPLE HAVE PARTICIPATED
Almost 70% of consumers compare specs and prices when they shop. Are you one of them?

Explore the Amazon Great Indian Festival Sale and add your favorite products in the cart

Explore Great Indian Festival Here

This Festive season, Looking to buy a phone at the best price and specs? Compare your product with similar one.

Compare now

Increase your chances by sharing this giveaway on WhatsApp
You have successfully registered in the giveaway.
FAQs:
Q. How to Participate in this activity & Win?
Ans. Participating in this activity is as easy as it seems. You will have to perform all the given tasks & then Click on "Enter Giveaway" button.
Q. What is the duration to enter in this Giveaway?
Ans. This activity will commence from September 22nd, 2022 (Thursday) and end on September 30th, 2022 (Friday).
Q. How will winners be selected?
Ans. Smartprix will choose random winners from all the valid entries.
Q. When will the winner be announced?
Ans. The winners will be announced on October 4, 2022 (Tuesday)
Q. What is the wining prize?
Ans. There will be a Smartwatch and an exciting Gift Vouchers up to ₹10,000.
Q. How will the winners be notified?
Ans. Smartprix will send a notification to all the winners via registered e-mail and it will also be declared on all of our social media handles. (Don't forget to follow us on every social media platforms: Facebook, Instagram, Twitter)
Q. When will you get the prizes?
Ans. You will receive the prizes within 15 working days from the date of the winner announcement.


Chanchal Rockzz
@chanchal_setifuce
2 months ago
My Most favourite website is smartprix for Know the upcoming Gadgets and compare with similar products . I purchased my Apple ipad 9th generation recently by seen real comparison with other tablet and following comments of other user.

Yash Goyal
@yash_g
2 months ago
Smartprix is the best website for online comparison and to find latest electronics and gadgets and it helps me to learn about them and compare them with others. I saved a lot of money by using smartprix till date I purchased my iQOO 7 smartphone after comparing it on smartprix and I got the best deal on it. Thanks a lot smartprix for helping me to get the best deals on every electronics and gadgets also thanks a lot fot this amazing giveaway, Hope to win... 😍❤🙌 #BeSmartShopper #Smartprix #ILoveSmartprix #Giveaway

Jyoti Rawat
@jyoti_neduwezi
2 months ago
That's an awesome giveaway on 🎉🎉

Sunny Kumar
@sunny_conabofo
1 month ago
Waiting for the result

ÀñKît Tärîyâl
@ankit_tariyal
1 month ago
First choice for comparing phones and latest news about tech