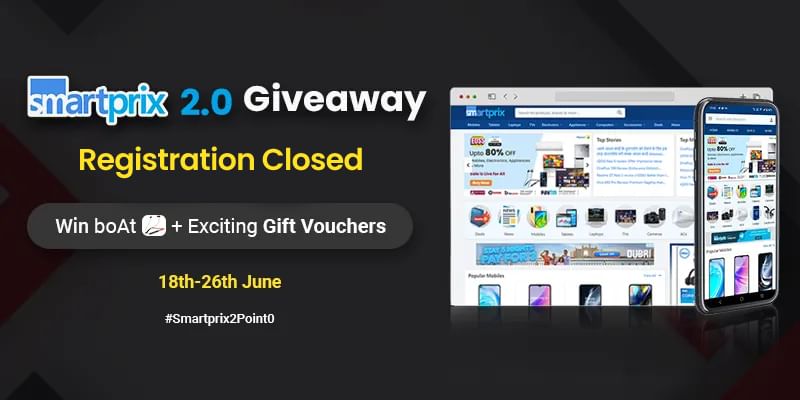 Smartprix 2.0 Giveaway | Win boAt Wireless Earphone + Exciting Gift Vouchers
#Smartprix2Point0
Whoooohooo!! Yes, you heard it right. Smartprix 2.0 with all-new UI and updated features is here and so we are here with yet another Giveaway. Visit our website and app, share your experience and complete steps given below to win boAt Wireless Earphone and exciting Gift Vouchers.
Registration Closed
Results will be declared on 29 Jun 2022
3085 PEOPLE HAVE PARTICIPATED
Which feature on Smartprix platform do you like the most?

Price Drop Alert

Filters & Sorting

Specs Score

Voice Search in App

Wishlist

Product Comparison

What do you think about the new Smartprix UI design?

It looks amazing!

I kinda like it!

I prefer the old one.

Which category of products do you compare the most on Smartprix ?

Camera

AC

Television

Smartwatch

Laptop

Join Smartprix Official Telegram Group For Tech Discussions

Click Here to Join
You have successfully registered in the giveaway.
Results will be declared on 29 Jun 2022
Compare Now
FAQs:


Q. How to Participate in this activity & Win?
Ans. Participating in this activity is as easy as it seems. You will have to perform all the given tasks & then Click on "Enter Giveaway" button.


Q. What is the duration to enter in this contest?
Ans. This activity will commence from June 18th, 2022 (Saturday) and end on June 26th, 2022 (Sunday).


Q. What is the wining prize?
Ans. There will be a boAt Wireless Earphone and some exciting Gift Vouchers.


Q. How will winners be selected?
Ans. Smartprix will choose random winners from all the valid entries.


Q. When will the winner be announced?
Ans. The winners will be announced on June 29th, 2022 (Wednesday)


Q. How will the winners be notified?
Ans. Smartprix will send a notification to all the winners via registered e-mail and it will also be declared on all of our social media handles. (Don't forget to follow us on every social media platforms: Facebook, Instagram, Twitter)


Q. When will you get the prizes?
Ans. You will receive the prizes within 15 working days from the date of the winner announcement.




Pratik Singh
@pratiksingh
7 days ago
As I'm a very old user of Smartprix, I can say now that Smartprix 2.0 is a good improvement and it looks fantastic and compare the items feature is the best from any other platforms and now the price drop alert feature is also getting loved by people. Great improvement to the UI design. Smooth & easy to search and compare all the products. #Smartprix2Point0 #SmartprixGiveaway

Pratik Singh
@pratiksingh
7 days ago
++ Please provide an option to update the profile pictures on Smartprix app. From website I can find the option but not visible on app. I already given this feedback few months back, also sent an mail for this. Please look into this and update. If it's possible from app, let me know. Thanks 😀👍

sandeep Kumar
@sandeep_gobevixi
8 days ago
Is it real..?

Dhirendra Agarwal
@dhirendra_jixiquja
6 days ago
yes

Rameshwarlal Solanki
@rameshwarl_peyorema
7 days ago
The UI design looks really amazing looking forward to use more frequently for comparison videos

anudeep ajmera
@anudeep_qomiputu
8 days ago
The UI design looks really amazing 🤩 looking forward to use more frequently for comparison videos

Md Arman Ansari
@mdarman_cepabuhe
7 days ago
Ook i am the winner