Accept the #FindAnError Challenge and Win Prizes | Smartprix
Find & Win Challenge

Thank You all for the great response and for making the contest a grand success. Stay tuned with Smartprix for more contest and Giveaways.


We have sent an email to all the winners. Please check your registered e-mail id/Spam folder to claim your prize. All the winners will get Amazon Gift Voucher.


Note: If any winner is unable to find their profile then please check the complete list of winners, if your name is in the list then you will get the prize.
Results Declared
2921
PEOPLE HAVE PARTICIPATED
Congratulations to the Winners
Please check your registered e-mail id to claim your prize.
In case of any query, please contact at
feedback@smartprix.com
Details
List of all the Winners: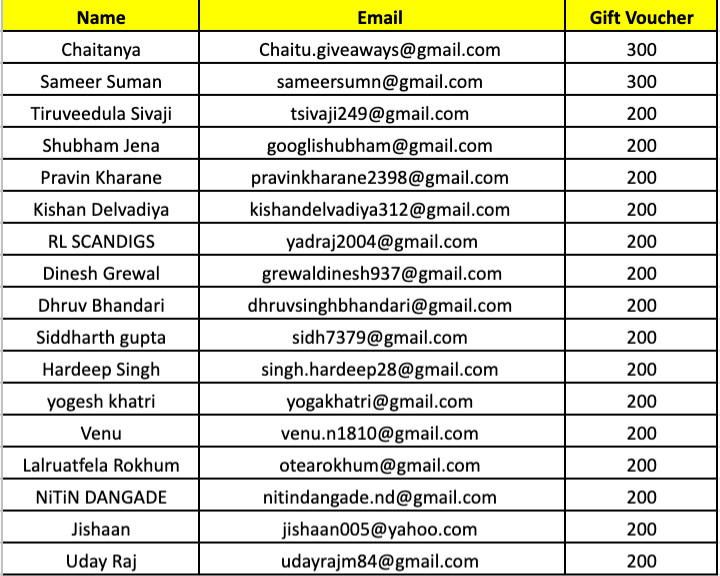 FAQs:


Q. How to Participate in this activity & Win?
Ans. Participating in this activity is as easy as it seems. Visit the desired category that is Mobiles, Laptops and TVs after that you will have to find the error(s) and then report & then Click on "Enter Giveaway" button.


Q. What is the duration to enter in this contest?
Ans. This activity will commence from March 5th, 2021 (Friday) and end on March 10th, 2021 (Wednesday)


Q. How winners will be selected?
Ans. Smartprix will choose winners from all the valid entries. The one who report the maximum number of errors will have the higher chances of winning.


Q. When the winner will be announced?
Ans. The winner will be announced on March 12th, 2021 (Friday)


Q. How will the winner be notified?
Ans. Smartprix will send a notification to the winners via registered e-mail and it will also be declared on all of our social media handles. (Don't forget to follow us on every social media platform)


Q. When will you get the prizes?
Ans. You will receive the prizes within 7 working days from the date of the winner announcement.



Terms & Conditions