Oppo Enco Buds review summary:
Expert Rating: 3.7/5
Case
Buds
Usability
Audio
Battery
Pros
Compact Case
Comfortable fit
Bass-friendly audio
Bluetooth 5.2 connection
88ms low latency mode
IP54 water resistance
Multi-functioning touch controls
Cons
No fast charging
Muddiness in the mids and shrill highs
A high-end pair of buds don't excite me as much as good-sounding entry-level buds. It shows the pace at which true wireless benefits are trickling down to the bargain basement. The ecosystem players like Oppo have contributed a lot to this surge of affordable TWS earbuds in the market. And as the brand releases its new Enco Buds at ₹1,999, like you, I am also curious to know how good it sounds.
I just got my hands on a pair of Enco Buds and although it's too early to say something about the sound, at the moment, we will unbox it and see what all we get for the asking price.
Oppo Enco Buds Unboxing
Note that this is just Enco Buds without any alpha-numerical modifiers. This I believe is to denote the starting point of Oppo's Enco lineup of earables. The packaging also screams the name in big bold letters along with an image of the white buds. On one of the sides, you can see the highlight features stamped. The box contents include:
Earbuds
Charging case
3 pair of ear tips
Quick start guide
Safety guide
Also Read:
Contents
---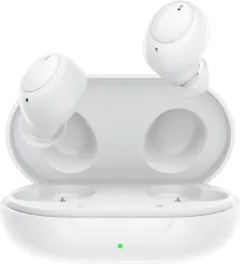 Bluetooth: 5.2; SBC, AAC
Charging Interface: USB-C
Microphone: Yes
Bluetooth Range: Up to 10m
Driver: 8mm
Frequency: 20Hz to 20KHz
Battery: 400mAh
Water Resistance: IP54
Weight: 4g (Buds); 45g (Along with case)
Price in India: ₹1,999
---
Let's begin.
Oppo Enco Buds: Case
Enco Buds come in a cobble-shaped case that is compact enough to comfortably carry around within your coin or regular pocket of jeans. You can also fidget it around in your palm. The shiny white smooth surface feels good to touch.
At the top, there is the Oppo logo and by the bottom some trademark signs and notes. On the front, there is a LED indicator that blinks green to tell sufficient charge, yellow for a medium charge level, and red when the juice is low. By the backside, you have a USB-C port.
The case can be opened with two hands only. The closing clasp has a nice tuck sound to it. I didn't get similar satisfaction from the magnetic attachment of the buds to their respective cavities. Anyhoo, within this cradle, you'd find the tiny buds. Plucking them out is also rather simple.
And over to the buds now —
Oppo Enco Buds: Buds
Enco Buds sit snugly in the ear. There is no stem so all the touch operations are done on the outward-facing surface of the buds. I wouldn't say it juts out much but due to the shiny white paint job, it is very noticeable. Thankfully, it's fully in-ear and there are two spare tips of different sizes. You can easily swap to them if the applied one doesn't fit right.
They are lightweight too at mere 4 grams each. So you shouldn't feel any long time wearing fatigue with these.
The buds are rated for IP54 ingress protection, which is a great thing to have.
Let's now know about pairing and controls.
Oppo Enco Buds: Usability
As soon as you open the case, the buds initiate the pairing process. All you gotta do is to select Oppo Enco Buds in your phone/tab/laptop's Bluetooth scanning screen. With select Oppo phones, the process is even more seamless as you just have to place the buds and the handset in close proximity, a setup prompt will appear on the phone and you just do as instructed. It will be quick but with limited support at the moment.
Next time onwards, the connection takes place every time you take out the buds from the case. Mind that this will be with the most recent tethered device.
To reset and restart the pairing process, press the touch area of both the buds for 4 seconds, and voila the pairing process begins. Repeat the setup steps as earlier mentioned.
Details, if required, are present within the bundled manual.
There is the option of listening to a solo bud for mono audio.
You can install and control a few aspects of the buds' usability through the HeyMelody app (available on both Android and iOS app stores).
The app shows the battery percentage of both buds, lets you customize controls, toggle Game Mode, and flash a firmware update.
It is rather basic I know, but gets the job done.
The taps and presses can be configured to control music playback, raise/lower volume, trigger game mode, and call upon the voice assistant on your phone.
There is also a reset option. For this, you have to disconnect the buds from the device and place them in the case. Do leave the lid open. Thence force-touch the top surface of either bud till the indicator blinks red three times. This means the reset is done.
Oppo Enco Buds: Audio
Oppo Enco Buds bears an 8mm dynamic driver and covers a frequency spectrum of 20Hz to 20KHz. It works over Bluetooth 5.2 channel and supports SBC and AAC codec.
The sound signature is warm and so you'd enjoy bass-biased tracks. The beat drops in Ari Ari by Nucleya and Ritviz and Chasing Marrakech by Zhu were thumping enough. But at the same time, in some tracks, you'd find the bass clouding the sounds in mids. Things don't get distasteful though.
The volume isn't loud enough. And whence you raise it above the suggested safe levels, some vocal and instrumental elements can sound shrill. But these are things expected for the price.
As for calls, the experience was fine. Oppo vaunts "Intelligent Call Noise Cancellation" but if you're wondering, there is no active noise cancellation here.
And while listening to it, here's how long the Enco buds would last —
Oppo Enco Buds: Battery
The on-paper claims are 6 hr from a single charge and a total of 24 hr with the charging case. Note that these figures whence the buds are used at 50-percent volume. So, if you listen to higher volumes, which you most probably would, the battery life can be around 5 hour-mark. The charging port is USB-C which is great at this price point. That means you can use any standard Type-C cable adapter to top it up which would take about the claimed 2 hours.
And at last —
Review Verdict: Should you buy Oppo Enco Buds?
This new pair of Oppo earbuds comes with interesting features like Bluetooth 5.2 connectivity, smooth connection process, 80ms low latency game mode, bass-driven sound from its 8mm driver with AAC coding, plenty good battery life, multi-functioning touch controls, IP54 water plus dust resistance, and an ergonomic build. For the asking price of ₹1,999, the sound and battery life are par with expectation. The rest of the repertoire is also good to have. All that considered, it is safe to say that Enco Buds are one of the best TWS buds under ₹2,000 in India. And are ergo easy recommend to anyone looking at entry-level cord-less buds.
Reasons to buy
Compact Case
Comfortable fit
Bass-friendly audio
Bluetooth 5.2 connection
88ms low latency mode
IP54 water resistance
Multi-functioning touch controls
Reasons to not buy
No fast charging
Muddiness in the mids and shrill highs